Last week we read the book David Goes to School by David Shannon.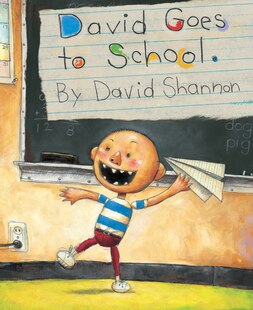 Have you ever read it? It is the perfect book to open a discussion about classroom rules and expectations.
We brainstormed rules/expectations that we thought were important for our class this year. Then the students had to pick the three expectations that they felt were the most important and write about them.
It is really interesting to see what matters to different kids. For some keeping hands to ourselves was a huge priority and for others it was things like being quiet or safe.
I got a great freebie on TpT (Teachers Pay Teachers) for making a David. It is by Angie Neal. You can find it by clicking on the caption underneath!
We made our David's last Friday. You should have seen the class all diligently working on making their Davids. It was awesome!!! They were so focused, so intent on the activity. I think I see some more cut and past projects in our future!!!!
Anywho, here are what ours ended up looking like...
Aren't they great? What you can't see is the writing that I put with each one. I attached their writing about which expectations are most important to them.
This coming week we will be tallying which rules got chosen the most and using those as a basis for a class expectations chart we will all sign. This will be posted clearly in the classroom and reviewed daily as part of our Calendar routine.
I was very pleased with how this lesson turned out. I never like to do the same thing in the same way from year to year and this was a big hit with the class AND turned out some great thinking about how we want our room to look, feel and be. A win-win!
Stay tuned for our expectations chart which should be done and ready to post about by the end of this week.