As per usual, I have been composing blog posts on the bus, while walking the dog, during my workouts, in my sleep (you get the idea!) and never in front of the computer!
So, here goes...
I am so happy to be back at work and to have the parent/ student/teacher goal setting conferences behind me. To have two VERY long days in the first week back was very, very tiring! I was so pleased that, for the most part, the students have a good understanding of what they want to improve in both their academic performance and behavioural choices. And, I am glad, too, that the class is starting to work together more and help each other to work on turning their goals into reality.
I love this time of year. It is when I do book studies on winter and snow. (Even though the snow seems to have disappeared, thank goodness!!!!) We started our week making folders to store all of the work we will be doing. They turned out great!
They were based on a picture I found (where else?) on pinterest! The site that had the original is
Artsonia
.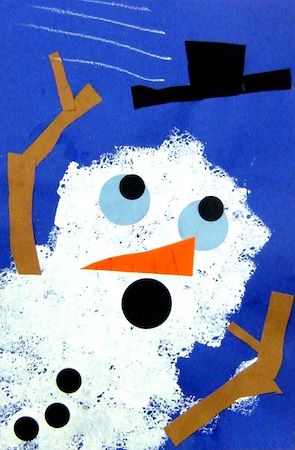 We watched the video of the classic book The Snowman by Raymond Briggs and then wrote a reader's response about our favourite part.
I love this story. I love that it is a wordless book and makes the reader infer and make connections about the events happening. And, bonus, the beginning is introduced by a young David Bowie which gave me great memories of my childhood (His was the first concert I ever attended. It was also the very first concert at BC Place. If you know when that was, you have an idea of how old I am!)
Then we started studying Jan Brett's book The Mitten.
We have read it and re-read it and re-read it some more. We did sequencing activities, retelling activities and learned some mitten poems as well.
This coming week we will read a different version of The Mitten and compare/contrast the two. (More on that to come...)
Then it will be on to Snowmen at Night and some art activities to go with it. This is one of my favourite stories and we will be doing some art kind of like this...
We will also start working on some non-fiction activities to compliment the science unit the class has started on whales with Mrs. V. I headed off to the library today to borrow a bunch of books because the non-fiction in our library is still packed! Wish those shelving units would get here already!!!!
Anywho, I promise to try to write these posts more often at the computer (and not everywhere else!)