he can still surprise me!!!!
My crow and I celebrated our 18th wedding anniversary this past weekend. We don't generally make a big deal out of our anniversary. No gifts. No fancy dinners. Just a quiet "happy anniversary" and keep moving on.
But, this year, we took the time to be together for a couple of days. We don't get much time as a couple (or as a family for that matter) anymore what with living in two houses and never seeming to be in the same one at the same time!
So, we were out for lunch over the weekend and he suddenly puts this on the table.
I was gobsmacked! Stunned! Speechless!
Seriously. I think my mouth hung open for at least a full minute! (And, let me tell you, me speechless is not an easy thing to do!!!!)
A present on our anniversary?
And, not only a present, but one from Pandora? (Yes, I knew it was from Pandora without even opening the box!)
My hubby does not like Pandora. Thinks it is a trend that will end (he's probably right but I'll still have the charms and all they mean to me when the trend ends!) and costs WAAAAY too much money (again, he's probably right but don't tell him I said that!)
So, I open it up and find, not one, but TWO charms!
Wowzer!!!!
And...he tells me he picked them both out and then tells me why!
Double Wowzer!!!!
This one (which is called Journey) he picked out to symbolize the journey we have been on together for all of these years and the journey still to come. Aaaaahhhhh!

And this one...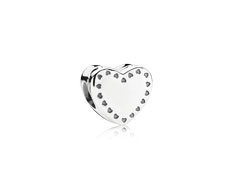 (which is called Gift From The Heart.) he picked because it is actually a little box that opens up and has a small diamond ring inside it. Like an engagement or wedding ring. He thought it was ironic since I don't wear my wedding rings and neither does he.
I love them both! Then we went back to the store to buy a clip because they had a deal on that would give me a free bracelet bangle if I spent another $30.
Spend another $30? No problemo!
I added this clip...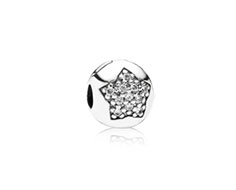 called You're a Star because stars have special meaning to us. The star helps me to remember that love can triumph over adversity and that together we are better than we are apart.
And...now I have a new bracelet bangle coming to me soon! They were sold out so I have to wait a little bit.
But, hmmmm....a new bangle means...more charms!!!!
Good thing he has already proven to be a romantic who is willing to buy charms for me because it makes me happy since I have a feeling he's going to be visiting the Pandora store a lot more in the future!
Cheers!
Olwyn