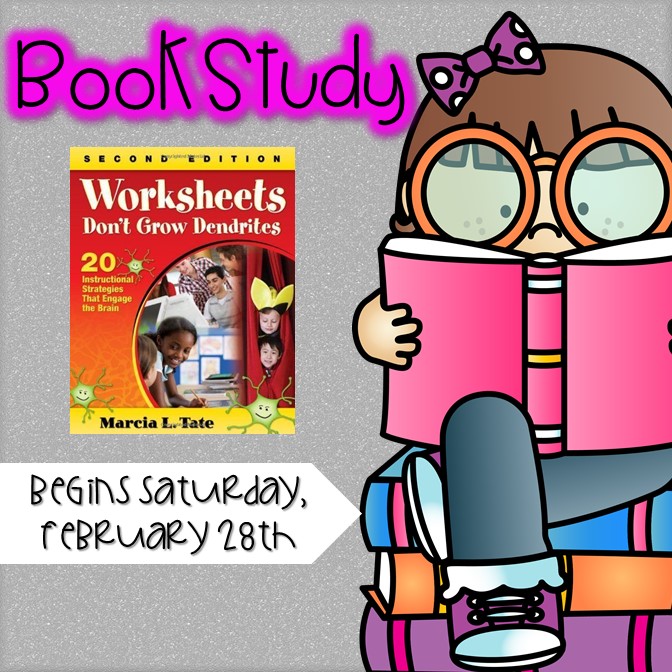 So, the other day, I wrote about Chapter 1 of this book. The book study is being hosted by a series of different bloggers. Chapters 1 & 2 are being hosted by Elizabeth over at Kickin' It In Kindergarten. Thanks, Elizabeth! Here is Chapter 2! I just didn't have time to do them together in one post!
The book study is on the book Worksheets Don't Grow Dendrites by Marcia L. Tate and is all about best practice strategies for learning. It is set up so that each chapter addresses a different strategy for creating optimal brain involvement during instruction. It is a very easy read with some great ideas for putting the strategies into practice right away. I love that!
I have to say that t
his chapter was my chapter!!! It speaks right to my heart and my belief in teaching an Arts integrated curriculum. I just wish that the suits in charge would realize that cutting the Arts is not the way to balance a budget!
I know that I have been a doodler forever. Any lecture, meeting, seminar, you name it, where I have to sit and listen will result in a bunch of notes with doodles along the side. Doodling helps me listen and process what is being said. There was a time when my doodling was a problem for some teachers. They thought I wasn't paying attention to their lessons. They were wrong.
Science has now shown us that there are a lot of different ways that people learn. For me, doodling is one of them. I know that there are kids out there that learn just the same way. Using drawing and artwork in the classroom provides opportunities for kids to put their thoughts into pictures. This can potentially open up learning to students.
So, here is my thinking after reading Chapter 2...
I think a lot of teachers shy away from using drawing and artwork in the classroom because they do not feel that they are very good at it themselves. Well, let me be the first to say that I am not a great artist by any stretch of the imagination. I can draw passable pictures if I have an image to use for shape etc. I have never taken any formal art lessons at all. I just love being creative. And, I can tell you from experience, that kids are very forgiving. They praise my attempts (even when the dog looks more like a rabid coyote!) I am the Queen of Directed Drawing!
So, I would say to all teachers out there to give it a try even especially if you think you can't do it very well. In my opinion, it is just as important for my lovelies to see me trying to do something that I am not really good at as it is for them to do it themselves.
I use the series of Draw Write Now books A LOT (farm book is one of 8 in the series) and would highly recommend them. You can find them here. Also, Usborne has some really good ones, too. Like this one here...
So, what are you waiting for? Pick up a felt (preferably a yummy smelling one!) and go for it!
I feel pretty good about my use of this strategy already. There is, of course, always room for improvement but, overall, I am pretty confident about my ability to use this strategy.
Cheers!
Olwyn