So, I decided to take part in an online book study reading, discussing and putting into practice the ideas in the book Worksheets Don't Grow Dendrites by Marcia L. Tate.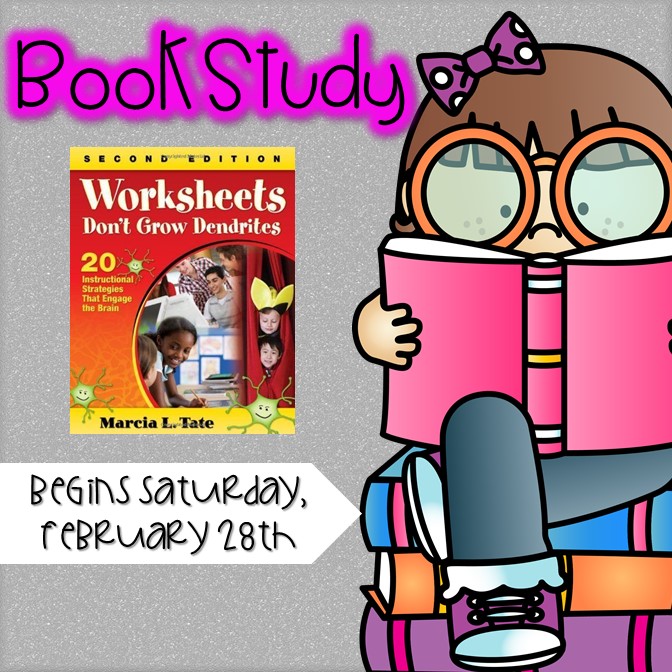 I decided to do this for a few reasons:
1) I have pretty much been out of the classroom for 6 weeks as I've had a student teacher doing 80% of the teaching. She leaves next week and this book study came along at just the right time to get me fired up for teaching again.
2) I always have more to learn! After perusing the book, which arrived one day before the official start date of the book study (thanks Amazon!), I realize that I am doing some of the strategies but I know that there is always room for improvement.
3) The book study is being hosted by some of my favourite bloggers. I admire the work they do and hope to learn more by linking up with them.
So, Chapter 1 is about the strategy Brainstorming and Discussion. Elizabeth over at Kickin' It In Kindergarten kindly shared a graphic organizer to organize our thinking as we do the book study. Here are my thoughts:
I feel like I am doing a lot around brainstorming and discussion in whole group situations but there is definitely room for improvement in the small group or 1-1 area. I plan to add more of this when I am back to teaching full-time after Spring Break.
I love the Whole Brain Teaching (WBT) strategies in general and have had great success using both the "class, class, class" and mirror strategies. I want to spend some time training the class in the "OK Teach" strategy.
We will be doing the Second Step program after Spring Break and I think that more partner talk will deepen their learning. What better way to teach social and emotional learning than through real interactions with others?
Also, I really like the idea of schema charts rather than K/W/L charts. I saw these over on Deanna Jump's blog post for this book study. Just click on the link above and it'll take you there! A traditional K/W/L chart gets the students to tell what they Know about a topic, then say what they Wonder about the topic and, finally, to reflect on what they have Learned about the topic. While I have never had problems doing the K and L parts of the K/W/L, it seems like we never manage to cover all of the W's that come up. I have never felt like the kids, or myself for that matter, really click with the K/W/L charts. They have always just felt like a hoop to jump through. You know, that thing they told you in Teacher's College that you have to do at the start of every new unit.
I feel like the schema chart just fits me better somehow. And I know from experience that if I am invested in something then that comes across to the students and they become invested too. I like that a schema chart asks students what they already know, what new learning they acquire through the unit and what misconceptions they held. I also like that the language (using the word schema) ties in so nicely with the teaching I have already done around reading. And I love the way Deanna Jump does them using colour coded post-it notes (the colour coding makes my heart go pitter-patter!) I am going to use this for my Grade 1 science unit on Seasons in second term. Thanks for the great idea, Deanna!
I will post about Chapter 2 later in a separate blog post. It is on the strategy of using drawing and artwork. One of my favourite things to do!!!!